Post with 110 notes
This lovely illustration by Arthur Rackham depicts "Saint Nicholas" (also known as "Saint Nick" and "Santa Claus") and was prepared, according to Rackham's signature, in 1907. The illustration was later published in Arthur Rackham's Book of Pictures in 1913.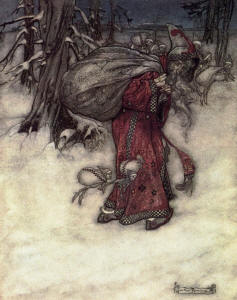 Appropriately, Rackham has shown Saint Nicholas hauling a sack of presents and surrounded by numerous elves who are also carrying sacks of gifts.
Stylistically, Rackham's depiction of Saint Nicholas appears to owe much to elements of the 1823 poem, "A Visit from St Nicholas", in particular, the following text:
He was dressed all in fur, from his head to his foot, And his clothes were all tarnished with ashes and soot; A bundle of toys he had flung on his back, And he looked like a peddler just opening his pack.
Below, we show detail from "Saint Nicholas" by Arthur Rackham.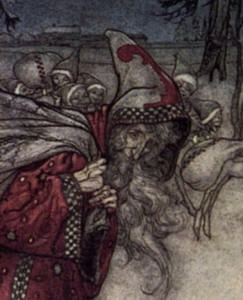 For more information on Arthur Rackham, to see more of his art and to shop for Posters and Greeting Cards, we invite you to peruse our Arthur Rackham Collection - and to purchase our latest publication, visit our "Coloring the Ages" page. Below, we show one of the illustrations in Volume One of "Coloring the Ages".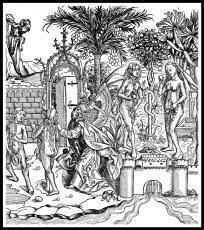 Source: spiritoftheages.com