Post with 127 notes
This illustration - showing a design by Hans Holbein the Younger for Erasmus' The Praise of Folly - is from an edition of L'Eloge de la Folie published by François L'Honoré (Amsterdam) in 1728. It is known as "Saint Bernard and the Devil" and is associated with the following text (as shown in the 1668 translation by John Wilson):
But what is more foolish than those, or rather more happy, who daily reciting those seven verses of the Psalms promise to themselves more than the top of felicity? Which magical verses some devil or other, a merry one without doubt but more a blab of his tongue than crafty, is believed to have discovered to St. Bernard, but not without a trick. And these are so foolish that I am half ashamed of them myself, and yet they are approved, and that not only by the common people but even the professors of religion.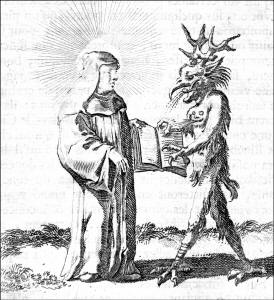 Hans Holbein the Younger (1498-1543) - he is called "the Younger" to distinguish him from his father, Hans Holbein the Elder, a painter of the Late Gothic School - worked in what has been termed the Northern Renaissance Style, producing prints and paintings throughout his career. As a young artist, Holbein is known to have found work in Basel painting murals and religious works, including designs for stained glass windows and printed books. It was during that period that he prepared the images to accompany Erasmus' classic work Moriae Encomium (The Praise of Folly), in addition to his suite that was subsequently published as Der Todten-Tantz (The Dance of Death).
In 1526, Holbein traveled to England carrying a recommendation from Erasmus and quickly gained patrons among the humanist circle of Thomas More before returning to Basel for four years. By 1532, Holbein had re-established his career in England and by 1538, he had been appointed King's Painter to King Henry VIII - an appointment he retained until his death.
Below, we show a painting depicting Hans Holbein the Younger at the age of 45.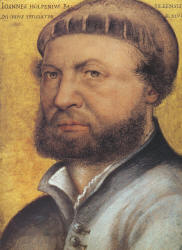 Moriae Encomium - known as The Praise of Folly (English); or, L'Eloge de la Folie (French)- was the work of the great Dutch Renaissance Humanist and Theologian, Desiderius Erasmus. That work - written in the closing years of the first decade of the 16th Century - was a satirical critique of both the Catholic Church and popular superstitions and was dedicated to his friend, the English Renaissance Humanist, Sir Thomas More.
Below, we show a painting of Erasmus by Hans Holbein the Younger.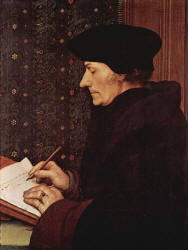 For more information on Hans Holbein, to see more of his art and to shop for Posters and Greeting Cards, we invite you to peruse our Hans Holbein Collection - and to purchase our latest publication, visit our "Coloring the Ages" page. Below, we show one of the illustrations in Volume One of "Coloring the Ages".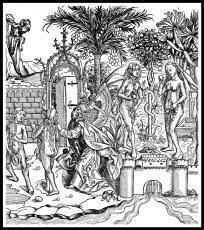 Source: spiritoftheages.com